Update 4/28/21: We previously posted about Alaska Mileage Plan losing the ability to book Emirates first class awards. Now, Japan Airlines has announced that we will no longer be able to book Emirate First Class with JAL Mileage Bank miles after August 31, 2021.
Original post follows:

Emirates will no longer allow partner access to First Class awards as of April 1, 2021 according to the latest mileage statement from Alaska Mileage Plan. This is surprising and if true it is hugely disappointing as Emirates First Class has long been one of the most aspirational awards in the sky. Though some would argue it to be more bling than substance, there simply has been no blingier way to fly in commercial air travel. While you'll still be able to book directly via the Emirates Skywards program, it will be sad to see the end of one of the most fun partner redemptions possible. As seen above, the way Alaska has worded this makes it seem that this will apply to all of Emirates's partners.
This news came out in the latest Alaska Airlines Mileage Plan statement this evening, so on the surface it seems that it is possible that this only applies to Alaska Mileage Plan bookings. That explanation certainly seems like it could fly given the timing: Alaska is set to join the oneworld alliance on March 31st, 2021 — which they claim is the last day to book Emirates first class awards.
However, the wording does not indicate that Mileage Plan will no longer offer Emirates First Class awards or that Emirates will no longer allow Mileage Plan access but rather it directly says that Emirates will no longer allow partner access to First Class awards as though this will be a blanket policy.
Granted, there aren't many partner options for booking Emirates first class that are particularly appealing these days. Japan Airlines offers the best deals in many cases, but Japan Airlines miles are fairly hard to come by given that the only US transfer partner is Marriott. JAL does have a US credit card, but it isn't very attractive.
Emirates also partners with Qantas, though in all but the shortest distance 5th freedom flight redemptions, the Qantas rates aren't particularly good.
Alaska Mileage Plan used to be the way for US-based frequent flyers to access Emirates awards. Indeed, "back in the day", I redeemed 90K Alaska miles per passenger to get fancy and fly from the Maldives to New York with a stop in Dubai in first class (an itinerary that priced around $20K one-way with the stopover at the time that I booked it). Unfortunately, Alaska increased that redemption to 180K miles at some point with no notice – and in most cases Alaska redemptions for Emirates first class just aren't particularly attractive anymore.
But there is no denying that Emirates first class is fun. From the free-flowing Dom Perignon….
To the onboard shower on the A380….
And the nearly nonsensical minibar beside the seat…
It is definitely one of those experiences that leaves you laughing at the places this points and miles game can take you. In fact, I am typing this post while wearing my Emirates first class pajamas, which I've held onto and enjoyed for years.
And the "new" first class looks downright amazing. I have seen some pictures on social media recently that make it look much nicer than it looks in the marketing images.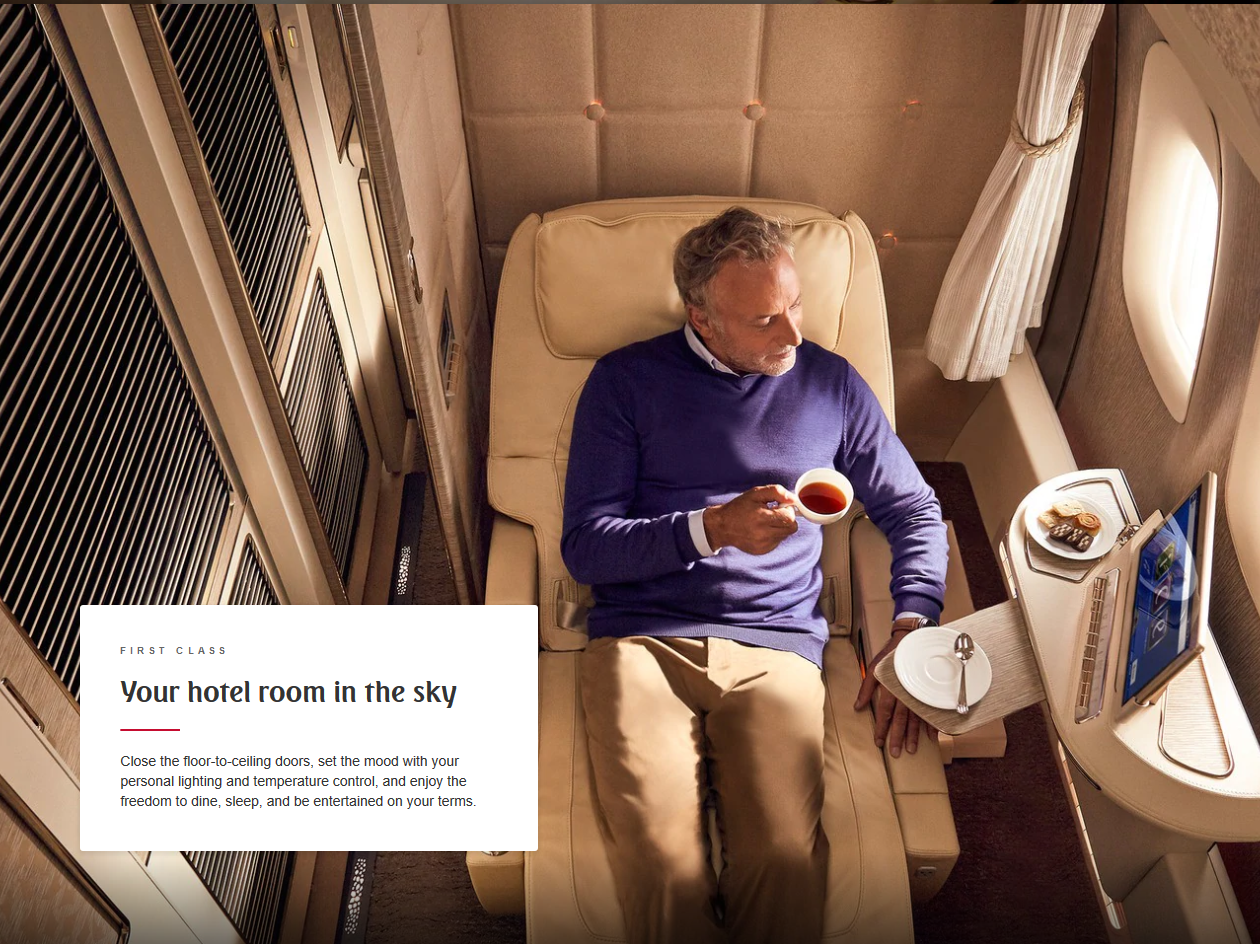 Again, for most of us this won't necessarily be a massive loss given that partner rates for Emirates first class aren't amazing. And now that Emirates has eliminated the egregious fuel surcharges that they used to impose, booking via Emirates Skywards isn't a terrible deal at just 85K + $41 one-way from Newark to Athens or 135K miles round trip in first class on that route (See: Emirates slashes award fees: now worth a second look). Given that Emirates is one of the most promiscuous airline programs, you can transfer points to Emirates from Amex Membership Rewards, Chase Ultimate Rewards, Citi ThankYou points, Marriott Bonvoy and Capital One. Emirates even launched their own credit cards recently (the Emirates Skywards Premium World Elite Mastercard and Emirates Skywards Rewards World Elite Mastercard).
That said, I'm nervous as to whether or not good values for Emirates first class will remain if Emirates no longer needs to compete with partner programs. On the one hand, we've seen that some programs which routinely restrict first class space to partners (like Singapore Airlines) have much better space available for members of their own program, but we don't yet know what the Emirates model will look like.
It is worth repeating that it is possible that the email from Alaska was poorly worded and that this change will only affect Alaska Mileage Plan bookings. However, given that they did not announce an end to the partnership but rather just to first class bookings, I am more tempted to think that this is a move coming from Emirates. While it won't be a huge blow for many readers, I'm always happier with more ways to book the most luxurious awards rather than fewer. If you're interested in booking an Emirates first class award via a partner, you'll have to keep your eye out for availability and be sure to book it by the end of March. Hopefully that will give us enough time with travel actually possible / safe / enjoyable to make it worth booking.
H/T: Reader Kathy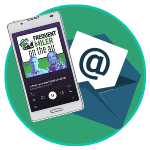 Want to learn more about miles and points?
Subscribe to email updates
 or check out 
our podcast
 on your favorite podcast platform.