FM to Go is back!  Or, more accurately, we are planning to bring it back and you can help.  The idea behind FM to Go originated years ago when various readers invited us to visit their home towns.  We love meeting people interested in points, miles, and travel and so we said "sure, let's do it!"  If memory serves, in 2019 we visited San Diego, San Francisco Bay Area, and Minneapolis.  And in February 2020 we visited Philadelphia.  Then…, well, you know.  A pandemic took the "Go" out of our plans.  Let's get it back.
We held our first FM To Go in February 2019 in San Diego. We met at a local library that had free meeting space which was available from 1pm to 5pm. We presented various topics and answered lots of questions. Afterwards many of us went to dinner at a nearby pizza place. Other than the fact that everyone had to pay for their own dinner, there were no charges for this event.  Each FM to Go afterwards followed a similar pattern, but sometimes there was also an optional lunch before the event.
Past FM to Go events included just me and Nick, but going forwards we're thinking that the entire FM team should be invited: Me, Nick, Tim, Stephen, and Carrie.  Most likely we won't all be able to go to each event, but as long as at least two of us can go it's probably worth doing.
What it means to host an FM to Go
If you invite us to visit your town, we would expect you to do the following:
Find a venue that can seat at least 50 people and can accommodate a projector for presentations.  Ideally it would be free or very cheap.  Most of the past FM to Go meetups were in libraries where meeting rooms could be booked for free.  Usually the library included free use of microphones and a projector as well.  You will be responsible for booking the venue and ensuring that the necessary tech is available.
Work with the FM team to identify a date where some of us are free and where the venue is available.  All past events were held on Saturdays.  That seems to work well in general.
Plan for lunch before the event.  This could be as simple as telling participants that they are welcome to meet up at a nearby restaurant beforehand and pay their own way.  Or, as was done in the Bay Area meetup, pre-order food and figure out how to collect payment from attendees.
Plan for dinner after the event.  This could mean simply finding a nearby restaurant that can accommodate a very large group and have each guest pay for their own dinner.  Or it may mean collecting payment from attendees.  That's up to you.
We do not expect the host to take care of our food, travel or lodging.
How to invite us to visit
Let's try this.  If you're interested in hosting us in your town, add a comment to the bottom of this post with details.  Here's an example of the format I'd like to see:
Town Name:
Why:
When:
Who:
Here's a made-up example:
Town Name: Schitt's Creek
Why: We have an awesome motel named Rosebud that I know you'll love. The Café Tropical will be a great place for both lunch and dinner.
When: Anytime but winter when it's bitter cold
Who: My friends Johnny, Moira, David, and Alexis used to meet up weekly to talk miles and points.  I'm sure I can get them to return.  We'll all attend and I'm sure we can get more townsfolk to join!
Then others who would like us to visit the same town can reply to that comment with their own ideas or simply to support it.  For example, you might reply "Yes, come to Schitt's Creek! I know at least 12 people that would love to attend!"  Or, you might offer to help organize the event.  Etc.
How we decide where to go
We don't have a formal process for deciding where to go.  Factors we'll consider are how many people seem interested in us coming, how interested we are in visiting that town, how easy it is to get there, and… serendipity (e.g. if one or more of us have plans to go there anyway, we can try to make an event out of it).
We're not looking for anyone to pay our way. We have our own miles for flights and points for hotels. We're doing this because we love meeting others interested in points, miles and travel. This is a way for us to connect with you.  Hopefully we'll see you soon!
Other upcoming events
FTU Signature Washington, DC May 6, 2023: Nick presents "It Goes Without Saying: Tips You Were Supposed to Read Between the Lines."
Chicago Seminars October 14-15 2023: Some FM team members will likely present in Chicago at this annual event, which I believe will be held October 14-15, 2023. Once details are released (typically around mid to late summer), we'll update our event schedule page with a link. I highly recommend this one.
We always add events like these to our Frequent Miler Event Schedule page, so bookmark that page if you are interested in keeping track of future events.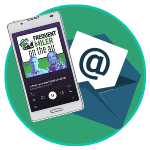 Want to learn more about miles and points?
Subscribe to email updates
 or check out 
our podcast
 on your favorite podcast platform.